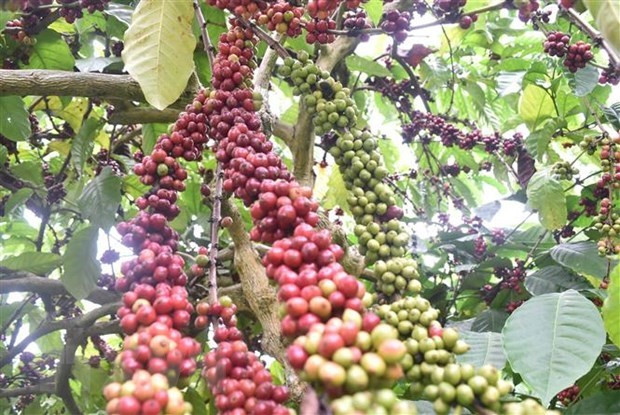 Vietnam's coffee has been shipped to more than 80 countries and territories, making the country the second biggest exporter in the world, with a market share of 14.2%.
Vietnam exported 112,531 tonnes of coffee worth 266 million USD in August, down 4% in volume but up 13% in value, reported the General Department of Vietnam Customs.
On an eight-month calculation, Vietnam brought home 2.8 billion USD from exporting 1.2 million tonnes of coffee, up 40% in value and 11% in volume year-on-year, respectively.
Coffee is one of the six key currency earners with an annual revenue of over 3 billion USD. Its major markets are Europe, the US, Russia, Japan and the UK. In Europe, Vietnam is the second biggest coffee supplier with a market share of 16.1%, behind Brazil with 22.2%.
At present, Vietnam is home to 97 coffee bean processing plants with an annual capacity of 1.5 million tonnes, 160 coffee roasting, 8 instant coffee and 11 coffee blending facilities.
VIETRADE, Chinese city ink MoU to foster economic partnership
The Vietnam Trade Promotion Agency (VIETRADE) and the Commerce Commission of China's Chongqing city signed a memorandum of understanding on enhancing economic, trade and investment cooperation at a teleconference on September 16.
Vietnamese Deputy Minister of Industry and Trade Do Thang Hai noted that with many advantages for economic, trade, and investment ties, China has continually been the largest and most important trading partner of Vietnam.
Despite impacts of the COVID-19 pandemic, bilateral trade still topped 100 billion USD in 2020 and 2021. It surpassed 117 billion USD in the first eight months of 2022, up 10.8% year on year, according to the General Department of Vietnam Customs.
Realising the potential and important role of the market in China's western region, including Chongqing – one of the four provincial-level municipalities in the country, with the Chinese Government's support, the Ministry of Industry and Trade decided to choose this city to set up Vietnam's first trade promotion office in China in 2014.
Hai cited data from China Customs as showing that trade between Vietnam and Chongqing exceeded 4.5 billion USD in 2019, more than doubling the 2 billion USD in 2018. It continued growing to over 7.3 billion USD in 2020 and 7.93 billion USD in 2021.
Vietnam is also an attractive destination for many Chongqing investors who have invested in over 20 projects in the Southeast Asian nation.
Those outcomes have substantially contributed to economic, trade, and investment links between Vietnam and China, the Deputy Minister said.
On this occasion, apart from the MoU between VIETTRADE and the Commerce Commission of Chongqing, two cooperation agreements were also signed between associations and businesses of Vietnam and the Chinese city.
AEM-54: CLMV Action Plan in 2023-2024 approved
The CLMV Action Plan for the 2023-2024 period was approved at the 14th Cambodia, Laos, Myanmar and Vietnam Economic Ministers' Meeting (CLMV-EMM 14), which took place on September 16 in the framework of the 54th ASEAN Economic Ministers' Meeting (AEM-54) in Cambodia's Siem Reap province under the chair of Vietnamese Minister of Industry and Trade Nguyen Hong Dien. 
Delegates focused on discussing the economic, trade and investment situation in the four countries; the progress of implementing the CLMV Action Plan for the 2021-2022 period.
Senior economic officials from the four countries (SEOM CLMV) were assigned to actively coordinate and collect proposals related cooperation projects from relevant ministries, sectors and agencies, and send them to the ASEAN Secretariat for inclusion in the action plan.
In his remarks, Minister Dien, who is also head of the Vietnamese delegation to AEM-54, applauded the addition of digital economy as a cooperation field to the action plan, saying that this is a new development trend of the region and the world that attracts the interest of many countries.
The digital economy will help businesses in Cambodia, Laos, Myanmar and Vietnam – especially small and medium-sized enterprises, shift to new business models, reduce costs, improve business efficiency, and increase access to customers and markets, he said. 
The Vietnamese delegation also announced that Vietnam will continue to support booths of Cambodia, Laos and Myanmar at a number of major international fairs and exhibitions organized by Vietnam; and maintain its scholarship programmes for students from these countries.
Vietnam hopes to foster computer, electronic, component exports to the UK
Vietnam hopes to boost its exports of computers, electronic products and components to the UK in the near future after it has gained success in shipping this group of goods to many other overseas markets.
In 2021, exports of computers, electronic products and components earned Vietnam 50.8  billion USD, making it the second biggest export group, according to the General Department of Customs.
Export turnover of this group of goods last year grew 14.1% year-on-year, equivalent to an increase of 6.3 billion USD, accounting for over 15% of the nation's total export turnover.
The US market was the biggest for this group of goods from Vietnam, accounting for 25% of exports. Exports to mainland China reached nearly 11.1 billion USD, although only increased by less than 1% and accounted for 21.83% of the total export turnover of the whole industry.
The third largest market was Hong Kong, which grew by 50%, bringing turnover to 6.3 billion USD. The EU came fourth with 5.9 billion USD, up 2.6%, and the Republic of Korea ranked fifth, reaching 3.5 billion USD, up nearly 22%.
Four other markets with export turnover from 1 billion USD to 2 billion USD were the Netherlands with 1.8 billion USD, up 5.2%; Mexico (1.4 billion USD, up 17.4%); Poland (1.1 billion USD, up 14.9%) and Slovakia (1.0 billion USD, up 27.7%).
In addition, there were a series of markets with import turnover of nearly 1 billion USD, including Japan (996 billion USD), Taiwan (938 million USD), Singapore (924 million USD), and India (828 million USD).
Deputy PM attends opening of 19th CAEXPO, CABIS
Permanent Deputy Prime Minister Pham Binh Minh delivered a pre-recorded speech at the opening of the 19th ASEAN-China Expo (CAEXPO) and the 19th China-ASEAN Business Investment Summit (CABIS) in Nanning, the capital city of China's Guangxi Zhuang Autonomous Region, on September 16.
Hailing the important achievements that the Association of Southeast Asian Nations (ASEAN) and China have gained over the years, especially the establishment of a comprehensive strategic partnership for peace, security, prosperity and sustainable development.
ASEAN and China have continued to be each other's largest trade partner with two-way trade reaching over 669 billion USD in 2021. China is the biggest investor in many ASEAN countries. Meanwhile, bilateral cooperation in disease control, poverty reduction, culture, people-to-people exchanges have also been strengthened, benefiting people of both sides, according to the Deputy PM.
He stressed the need to make full use of opportunities from the Regional Comprehensive Economic Partnership (RCEP) and the ASEAN-China Free Trade Agreement (ACFTA), thus bolstering bilateral trade in a balanced and sustainable manner.
The Deputy PM suggested the Chinese Government create favourable conditions for the increased import of goods and high-quality farm produce from Vietnam as well as other ASEAN countries via Vietnam.
CAEXPO is one of the 10 leading trade fairs of China, which has been held annually since 2004. This year, Vietnam continues to participate in the event at the largest scale with an display area of over 2,000sq.m, along with the online exhibition by 80 enterprises to introduce Vietnamese strong products such as agricultural and aquatic products, processed food, wooden furniture and handicrafts, consumer goods, as well as investment, tourism and trade services.
Vietjet launches promotion campaign targeting Indian couples
Budget carrier Vietjet Air on September 15 launched the "Love Connection" Campaign – the first ever for India that offers Indian couples with opportunities to experience their dreamful "honeymoon" in Da Nang and Phu Quoc, two famous beach cities in Vietnam.
Lasting from September 15 to November 30, the "Love Connection" Campaign is a tailored talent contest reserved for Indian couples, in which couples are invited to send their own impressive moments recorded in the journey to find each other to Vietjet.  
Programme details and participation rules are listed on the website: https://loveconnection.vietjetair.com.
The winning couples will receive a romantic vacation in Da Nang, a coastal city that has become a magnet for tourists in central Vietnam or Phu Quoc – the so-called "Pearl" Island in the southern Vietnamese province of Kien Giang.
The winners will participate in a once-in-a-lifetime experience named the "Celebration of Love" Event on Mumbai beach and receive return tickets from India to Vietnam by Vietjet as well as a resort voucher for the two.
With Vietjet's far-reaching flying network, the winners can freely choose their preferred flight to Vietnam including Mumbai / New Delhi / Ahmedabad / Hyderabad – Phu Quoc / Da Nang / Ho Chi Minh City / Hanoi with departure time from November 15, 2022 to June 30, 2023. 
Couples with stories receiving most votes from the contest's official website https://loveconnection.vietjetair.com/ and related social platforms will receive an invitation to attend the Love Connection 2022 award party as well as Celebration of Love event in Mumbai.
The winners will be shortlisted and announced by Vietjet on October 24, 2022.
Listed companies honoured for best investor relations
The Vietnam Association of Financial Executives, the Finance and Life e-magazine (FILI) and Vietstock honoured listed companies with the 2022 IR Award for having the best investor relations in Ho Chi Minh City on September 15.
In the final round, they were divided into three groups based on market capitalisation size (large, medium and small and micro-cap) and went through a rigorous assessment by 31 leading financial institutions and voting by investors based on three criteria: transparent and effective financial communication, reputation in the capital market and having IR activities that help optimise business value.
The top three voted by financial institutions were ACB, FPT, and MBBank (large-cap), Hai Phat Investment JSC, FPT Digital Retail JSC, and Digital World Co Ltd, (mid-cap), and Petrovietnam Securities Incorporated and Tan Cang Logistics & Stevedoring JSC (small and micro-cap).
The top three voted by investors were Mobile World Investment Corporation, FPT Corporation and Masan Group Corporation (large-cap), Digital World Co Ltd, FPT Digital Retail and Gia Lai Electricity JSC (mid-cap), and Petrovietnam Securities Incorporated, Everpia JSC and Tan Cang Logistics & Stevedoring JSC (small and micro-cap).
Vietnam's largest F&B ingredients expo to return next month
Food Ingredients (Fi) Vietnam, the largest food and beverage (F&B) ingredients exhibition in the country, will return next month, along with its co-located Beverage Ingredients (Bi) and Natural ingredients (Ni) pavilions to offer a good opportunity for business matching and market development in the industry.
The expo will be held by Informa Markets, the Food and Foodstuff Association of Ho Chi Minh City (FFA) and the Vietnam Association of Food Science and Technology (VAFoST) at Saigon Exhibition and Convention Centre (SECC) in the southern city from October 12 – 14.
It will bring together 5,000 domestic and international specialists in all industry segments and more than 160 exhibitors from 20 countries and territories.
There will be a series of technical seminars providing platforms for buyers to learn about the latest ingredients and solutions from leading exhibitors; a business-matching programme joined by F&B professionals; and an annual VAFoST Young Achievers' Safe Food Award.
Expo seeks opportunities for post-pandemic aviation growth
The Vietnam International Aviation Expo (VIEA) opened on September 15 in Hanoi with the aim of promoting cooperation opportunities for post-pandemic sustainable development of the aviation industry.
The three-day expo themed "Sustainable growth for a brighter future" attracted the participation of more than 50 international and domestic enterprises, including manufacturers, training schools and airlines.
Deputy Minister of Transport Le Anh Tuan said that the event marked the strong recovery of Vietnam's aviation industry after the COVID-19 pandemic. The expo provided opportunities to promote exchanges and cooperation as well as enhance the image and linkage of Vietnam's aviation industry to the world.
Deputy Director of the Civil Aviation Authority of Vietnam (CAAV) Ho Minh Tan said that after the COVID-19 pandemic, Vietnam's aviation industry was considered to have the fastest recovery speed in the world with a strong increase in domestic aviation operation.
Statistics showed that the aviation market received 23.3 million passengers in the first half of this year, an increase of more than 74.2% over the same period last year and equivalent to 60% of the same period in 2019. The domestic passengers totalled 20.8 million, up 58.4% and 12% against the same period in 2021 and 2019, respectively.
Vietnamese carriers were operating 60 domestic routes. The number of passengers through airports in Vietnam reached 40.7 million, a year-on-year increase of 56.8%.
Vietnam's 500 most profitable enterprises in 2022 revealed
Vietnam Report JSC and VietNamNet online newspaper on September 15 announced the Profit500 list featuring the top 500 most profitable enterprises in Vietnam this year.
Prominent in the list are Vietnam Oil and Gas Group (Petrovietnam), Samsung Electronics Thai Nguyen Co. Ltd., Hoa Phat Group JSC, Viettel Military Industry and Telecoms Group (Viettel), Joint Stock Commercial Bank for Foreign Trade of Vietnam (Vietcombank), Vietnam Technological and Commercial Joint Stock Bank (Techcombank) and Vietnam Electricity (EVN), Vietnam Joint Stock Commercial Bank for Industry and Trade (VietinBank), Military Commercial Joint Stock Bank (MB) and Vietnam Bank for Agriculture and Rural Development (Agribank).
Contrary to concerns about a slowdown of the world's economy, Vietnam is showing signs of strong recovery with many indicators already exceeding pre-pandemic levels, according to General Director of Vietnam Report Vu Dang Vinh.
It is attributed to solid growth in exports of manufactured and processed industrial products to traditional markets. Total import and export turnover of goods in the first eight months of this year reached 497.64 billion USD, of which, exports increased by 17.3% while imports rose by 13.6%. The recovery of domestic demand, especially for services, also contributed to the growth.
Vietstock Expo & Forum 2022 to be held from October 12-14
Vietnam's Premier International Feed, Livestock & Meat Industry Show (VietStock) Expo & Forum will take place at the Saigon Exhibition and Convention Centre (SECC) in downtown Ho Chi Minh City from October 12-14.
The event, the largest in Vietnam in terms of comprehensive solutions in the livestock, seafood and meat processing industries, will draw the participation of more than 170 enterprises from 21 countries and territories.
This year's event will include international workshops which intend to provide in-depth knowledge as well as update the latest trends in the livestock industry. It is expected to attract over 10,000 visitors.
Industrial real estate likely to pick up in remaining months
     
The industrial real estate sector will likely continue to pick up in the remaining months of the year thanks to the ongoing global supply chain disruption and diversification, and the trade deals that Viet Nam has signed, experts said.
Energy price uncertainty due to geopolitical issues and concerns on economic growth, China's persistence in pursuing a zero COVID-19 policy coupled with a global trade slowdown have been fueling the disruption and diversification, they added.
In Viet Nam, industrial real estate leasing has seen a hike in demand and rental prices, especially for logistics and warehousing.
According to CBRE Vietnam, a commercial real estate services and investment firm, in the third quarter, its industrial leasing enquiries are improving in both quantity and sizes. Land acquisition enjoyed 10 per cent year-on-year growth so far this year and 7 per cent growth for ready-built factories/warehouses.
The average size required by tenants of all CBRE's enquiries was 9.4 ha in the first half of 2022 compared to 9.2 ha last year for land and 6,700 sqm in the first half compared with 6,100 sqm in 2021 for ready-built factories/warehouses.
Viet Nam continues to be an appealing destination for industrial real estate investors, according to global real estate services firm Cushman and Wakefield.
It attributed this to the country's stable growth rate, an export-oriented economy, a rise in free trade agreements, a young labour force, investment incentives and strategic location.
With favourable government incentives, competitive labour costs, a stable political environment, a positive economic outlook and free trade agreements, the Southeast Asian country has become popular for foreign investors moving out of China.
Vietnam's aquatic exports to Russia record strong rebound
Vietnam's seafood exports to Russia have sharply recovered after many months of interruptions due to the impacts of  the Russia-Ukraine conflict, surging 36% in July and 98% in August, according to  the Vietnam Association of Seafood Exporters and Producers (VASEP).
In the first eight months of 2022, Vietnam's aquatic exports to Russia fetched over 94 million USD, down 20% compared to the same period last year.
After the Russia-Ukraine conflict started in late February this year, Vietnam's seafood shipments to Russia in March and April decreased by 86% and 46%, respectively, due to transport and payment difficulties.
Supply chains for production and import-export were broken, forcing Vietnamese exporters to find ways to  export to other markets.
According to Le Hang, Deputy Director of VASEP's Training and Trade Promotion Centre, tra fish was still the most exported item, accounting for 22% of seafood export turnover to the Russian market with total value of nearly 21 million USD.
While the turnover of most of seafood products shipped to Russia declined, the export of tuna, yellowtail, and anchovy to this market still maintained growth, enjoying increases of 97%, 6% and 27% to nearly 16 million USD, 14,6 million USD and 4.6 million USD, respectively.
Duong Hoang Minh, Commercial Counsellor of Vietnam in Russia, said transporting goods from Vietnam to Russia is now more convenient as a Russian shipping group has opened a direct route connecting Ho Chi Minh City and Hai Phong with Vladivostok, and a new rail route has been launched.
Experts said seafood exports to the Russian market will continue to recover in the final months of this year, expanding about 16% to 190 million USD in 2022 as forecast by VASEP.
Vietnam- Laos trade turnover increases steadily
Trade turnover between Vietnam and Laos hit 1.076 billion USD in the first eight months of this year, an increase of 27% compared to the same period last year.
Of this, Vietnamese exports to Laos were valued at 414.5 million USD, up 1.37% year-on-year, while its imports from Laos reached 662 million USD, a rise of 50.7% year-on-year.
The total trade turnover between the two countries is expected to hit 1.6 billion USD this year, an increase of 20% against last year's figure, fulfilling the target set by their leaders at the 44th meeting of the Vietnam-Laos Inter-Governmental Committee on Bilateral Cooperation.
From January to August, two-way trade turnover between Laos and the world reached 8.97 billion USD, down 1.1% over the same period last year, of which exports brought home 4.65 billion USD while imports reached 4.32 billion USD. Laos enjoyed a trade surplus of 330 million USD.
The main exports of Laos are electricity, gold, paper and paper-related products, copper ore, rubber, and agricultural products. Its main imports are petrol, vehicles, equipment and machinery.
Vietnam is one of Laos' main trading partners, ranking third among its exporters with a turnover of 304 million USD, accounting for 7.9% of  total import turnover.
Vietnam seeks to attract tourists from India, Middle East
The Vietnam National Administration of Tourism (VNAT) and the Department of Tourism of Ho Chi Minh City held a seminar on promoting Indian and Middle East tourism on September 9 within the framework of the 16th Ho Chi Minh City International Tourism Expo (ITE HCMC 2022).
Statistics from Google Trends showed that the number of searches about Vietnam from the Indian market has been increasing. This reflects the demand from India, which has a population of more than 1.3 billion and will become the most populous country in the world by 2023 with more than 1.4 billion people.
By the year-end, there will be 21 direct air routes, with over 60 flights per week, connecting Vietnam with India.
There are also direct flights linking Vietnam's major cities such as Hanoi, Da Nang and Ho Chi Minh City with the capitals of Middle East countries.
VNAT Deputy General Director Ha Van Sieu said that India and the Middle East are considered potential markets that need to be prioritised in the Vietnam Tourism Development Strategy by 2030.
VCCI comments on draft resolution on firms' recovery
     
As the Ministry of Planning and Investment is gathering comments on a draft resolution on favourable policy to boost firms' recovery, the Viet Nam Chamber of Commerce and Industry (VCCI) asks for clarification on several notions.
VCCI opines that the target of 1.5 million firms by 2025 set in the draft is unclear since firms could be either registered or active and their status would make a big difference to its implication. VCCI suggests changing the target to 1.5 million active firms to be more indicative of the economy and business environment.
The draft has set another target that said firms would make up 65-70 per cent of GDP, 30-35 per cent of jobs and 98-99 per cent of exports. VCCI holds that the target fails to specify the economic contributions of different types of firms – private firms and FDI firms. The specification is essential as it defines which role each type will play in the economy.
VCCI suggests a more specific target be added to the draft, which says private firms would account for 15 per cent of GDP by 2025 and 20 per cent by 2030. Additionally, at least 10 domestic groups operating in the industrial sector and 10 in the service sector would reach a significant scale in the same years.
The same goes for the next target, which said around 35-40 per cent of firms would embrace technological innovations and 100 per cent would be well-informed about digital transformation. VCCI says the target's achievability is difficult to assess.
"About 30,000 business facilities receive support in digital transformation" is another target that needs revision. VCCI says the figure is disproportionate to the target of 1.5 million active firms by 2025.
VCCI calls for a higher number of business facilities to be supported and further clarification on the extent to which the facilities embrace digital transformation.
VCCI suggests 10 per cent of business facilities upgrade into firms and 20 per cent of manufacturing firms operate circularly by 2025.
VCCI also suggests the portion of domestic components used in production increase by 10 per cent and qualified workers reach 35 per cent of the labour force.
VCCI also suggests firms' sales increase by at least 10 per cent each year and the number of firms granted technological certifications grow at the same pace.
Lastly, VCCI suggests exports subject to favourable tariffs under free trade agreements rise to 40-45 per cent by 2025, from the current figure of 32.7 per cent.
Financial scrutiny of insurers to bolster transparency
Insurance companies, reinsurance businesses, and foreign insurers must now widely publicise their financial statements, according to an official letter from the Ministry of Finance's Insurance Supervision and Administration Department issued last month.
The department is drafting guiding papers for the updated Law on Insurance Business that goes into effect at the start of 2023, while insurance businesses must quickly upgrade their procedures to comply with the new standards.
PVI Insurance, one of Vietnam's major non-life insurers, only provided summary financial results from 2013 to 2019. In 2020 and 2021, the firm did not issue any financial statements, even in summary form.
In the non-life insurance segment, companies such as HD Insurance Company, Xuan Thanh Insurance Corporation, Phu Hung Insurance JSC, Cathay Vietnam Non-Life Insurance Company, and MSIG Vietnam have not disclosed comprehensive financial statements.
Several firms make their financial statements available on their websites, but only to shareholders who have registered an account and been granted access.
Some life insurers, such as Hanwha Life, have released executive financial summaries instead of full financial information. Several insurance firms, including Cathay Life, BIDV MetLife, and Bao Viet Life, have not yet released their 2021 audited financial results.
Meanwhile, insurance firms (including brokers) must provide certain disclosures on their websites under the existing rules set out in a circular in 2017 on the Law on Insurance Business. Within 120 days of the fiscal year ending, all of a company's audited financial statements and the opinions of an independent auditor must be publicly disclosed.
While disclosing financial information is important for shareholders, partners, and customers to understand the financial health of their companies and make sound investment decisions, this practice is often overlooked.
According to Nguyen Ngoc Phu, founding partner at NPLaw, although the current law has provisions on the obligation to disclose insurance information, there is no specific regulation on violations. "Decree No.156/2020/ND-CP dated December 2020 is the sole legislative framework on administrative sanctions for violations in the securities market, which only stipulates violations of public companies. For insurance companies that are not in this category, there are no sanctioning procedures. Because of this legal loophole, many companies seem reluctant to engage in this initiative," Phu said.
Bui Quoc Tuan of the Ho Chi Minh City Bar Association said this could be considered against the law for listed companies that disclose financial information strictly for shareholders. As current regulations require financial information to be made public with no limitation, viewers should not have to obtain a shareholder account to access financial reports through company websites.
Cost of HCMC-Moc Bai expy projected to rise
With a length of 50 kilometers, the first phase of the HCMC-Moc Bai expressway project will require a total of VND16.73 trillion, up by around VND800 billion against an earlier projection.
The HCMC People's Committee sent a pre-feasibility study to the Ministry of Planning and Investment, highlighting that the cost of the project would increase by over VND800 billion. The 2021 cost estimate was VND15.9 trillion.
The State budget is estimated to cover more than VND7.43 trillion and the remaining VND9.3 trillion will be mobilized from the private sector.
The four-lane expressway will run from a section of Beltway No. 3 in HCMC's Cu Chi District to National Highway 22 in Tay Ninh's Ben Cau District.
The public-private partnership (PPP) project will be divided into two sections, with the first 24-kilometer section running across HCMC and the remainder through Tay Ninh Province.
It will be carried out in the 2022-2027 period under a build-operate-transfer contract. The builder will collect the toll for 18 years and one month.
The land area for site clearance is estimated at around 435 hectares, with 572 households affected.
HCMC will choose an investor in the second quarter of 2024 and carry out site clearance from the fourth quarter of 2023 to the third quarter of 2025.
Construction work might begin in 2024 and is expected to be completed in 2027.
Thanh Hoa has most newly-established businesses in north-central region
Thanh Hoa Province in the year to August had taken the lead in the north-central region and ranked sixth nationwide in the number of newly-established enterprises, just after HCMC, Hanoi, Binh Duong, Danang and Dong Nai.
Data from the provincial Department of Planning and Investment showed that 2,462 businesses have been set up in the north-central province since the start of the year, exceeding the province's target by 80%, and up over 30% against the same period last year, the local media reported.
Hoang Van Thu, head of the department's business registration division, said the province is set to have at least 3,000 new companies set up in 2022. In the year to date, authorities have actively supported local residents in launching startup projects and household businesses in upgrading their status to companies, resulting in a rising number of newly-founded firms.
To further promote business development, local competent forces have been told to effectively enforce the policy on supporting small and medium enterprises, streamline administrative procedures to create optimal conditions for investors and accelerate the provision of online public services to better serve local residents and enterprises.
Transportation charges continue falling
The Ministry of Finance (MOF) has proposed cutting some transportation fees by 50% in a draft circular detailing the collection rates of fees and charges in the transportation sector.
The proposed collection rates which apply to the tonnage fees and maritime safety assurance charge, charge for entering or leaving seaports for inland maritime activities, will be 80% of the current rates as provided in Circular 261/2016/TT-BTC.
Charges for the use of railway infrastructure are proposed to enjoy a 50% reduction, based on the revenue of railway business operations.
For the charge for entering or leaving seaports for inland maritime activities and waterway reporting fees, the MOF proposed a new collection rate at 50% of the current rates. The new rate shall be effective as of the date of issuance of the circular till the end of December 31, 2022.
As of January 1, 2023, the collection rates of the above fees and charges shall be applied in compliance with Circular 261/2016/TT-BTC and Circular 295/2016/TT-BTC.
In the last eight months, the MOF has proposed reducing 35 types of fees and charges. Some 37 fees and charges have been cut until the end of June 2022 and others will continue to be reduced to support residents and enterprises in easing hardships after the pandemic, totaling up to VND900 billion.
Source: VNA/SGT/VNS/VOV/Dtinews/SGGP/VGP/Hanoitimes